Catchy proudly introduces
MICHELA SCOLARI as a special guest contributor
IN
"

Drops of Life from NYC and the World…"
 
Details about author coming soon.
 
Until then, enjoy the first funny drop!
Drop 1 (NYC)
While I was "swimming" in the New York snow, I found myself wondering "what are the differences between my previous winters in Bucharest and this one in NYC??!". Well, at first I thought: "Over here cars don't park on the sidewalks… Yeah! I think it's that!".  Than, I fell over and I wondered:  "Does it happen in Sex and the City? For God sake, I don't remember it happening to Carrie Bradshaw!"
In fact, living in NYC may not be a proper contemporary fairy tail, but for some reason you can't stop loving NYC.  You just can't.  Perhaps, because – as the writer Italo Calvino once said – "New York is the only city in the world you have the illusion you can possess immediately".  Actually, this is true.  NYC has this charming ability to make you feeling always welcome, anywhere you go, whoever you meet, whatever you do. In one sentence, you feel comfortable and full of great expectations!
In NYC you feel part of a "whole" full of amazing things; in the city that never sleeps, you can do ALWAYS whatever you feel (legally :)) like doing: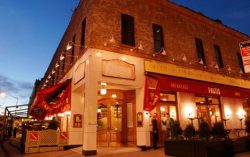 You may start your day with a lovely breakfast at Pastis, in the Meatpacking District, where, besides having the greatest pancakes ever, you can easily and accidently have "brief encounters" with almost unrecognizable celebrities… so, attention must be paid!
Later on – and after rolling in the snow to reach the nearest subway station – you may decide to enjoy a romantic walk in Central Park (I swear even without a man and even if you are freezing, it's still romantic!) and, perhaps, you want to challenge yourself ice-skating and have a good lough:  it's fun and it is also a good way to meet people.
Oh yes, remember: in the history of film, many heroines find their true love after a comic fall, while ice-skating in Central Park… Do you recall Serendipity for example?
What's next?
Option 1:  You found your true love and so… it's not up to me to tell you what to do…
Option 2:  You did not find your true love, but certainly you met lovely people you want to go to a Saturday brunch with!
Let's continue with a Option 2 then: Shake the snow off of your clothes and wet like a dog, go home and get ready.  Believe me, a Saturday brunch in NYC it's something you want to be ready for!  Especially if you go to an exclusive venue, like Lavo, on Madison Ave. Food and Wine selection is amazing, people are chic and cool (sometimes famous!) and… expect to find yourself dancing on tables, while literally having a "champagne shower"!  Oh yes, NYC Saturday Brunch is a MUST!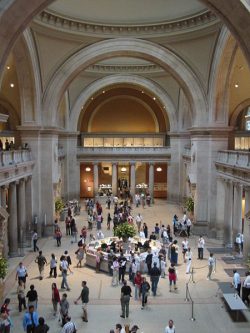 It's now 6 pm, and you have again plenty of choices. Some may go for a late shopping sesion in Madison Ave, where the best boutiques are, but what I choose it's a refreshing yet fascinating 'walk' through the enchanting galleries of MET (Metropolitan Museum of Art) on Fifth Ave. Wow! You need days to see everything in here, but you may just choose for a couple of hours to 'immerse' yourself in the mysteries of Egypt or dreaming of being Greta Garbo or Grace Kelly while slowly walking surrounded by the speechless beauty of the greatest Designers Creations in the Costume Institute… Really no words to explain further (believe me, you don't feel like going to H&M afterwards!)… And then, when it's almost 8 pm, you reach the Main Cloister and while the great Frederic Chiu plays his piano, you enjoy a Cosmopolitan and you just think:  I LOVE NEW YORK.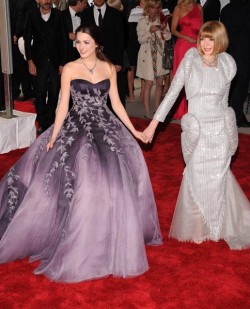 Again, there are so many choices to pick from afterwards:  lovely and quite dinner, maybe at my favorite Italian bistro The rabbit in the moon in Soho, with some close friends, or a fun musical in the Theatre District (Wicked is terrific!) or again out partying… Or just walking home, smiling because you are in NYC and you totally feel part of it!
Ops… while walking across the NYC streets, always remember:  pay attention!  You may run into Jude Law and not noticing… What a pity!
And here it is the translation 🙂
Iubesc New York-ul… sâmbăta!
Pe când înotam prin zăpada din New York, mă întrebam "care sunt oare diferenţele dintre iernile petrecute în Bucureşti şi cea de acum, din New York City?". Păi, prima diferenţă: "Aici nu sunt maşini parcate pe trotuare… da! Asta era!" Apoi, am căzut şi m-am întrebat cu năduf: "Se întâmplă asta în Sex and the City? Pentru numele lui Dumnezeu, eu nu-mi amintesc să i se fi întâmplat vreodată aşa ceva lui Carrie Bradshaw!".
Chiar dacă să locuieşti în New York City nu e tocmai un basm contemporan, dintr-un motiv sau altul, nu poţi să nu te îndrăgosteşti de NYC. Pur şi simplu, nu poţi. Poate pentru că – aşa cum spunea scriitorul Italo Calvino – "New York-ul este singurul oraş din lume care îţi dă senzaţia că poate fi imediat al tău". Chiar e adevărat. NYC are un farmec aparte care te face să te simţi mereu binevenit, oriunde mergi, pe oricine cunoşti, orice faci. Pe scurt, te simţi confortabil şi plin de mari speranţe!
În NYC te simţi parte dintr-un întreg plin de lucruri minunate: în oraşul care nu doarme niciodată, poţi oricând să faci orice vrei (numai să fie şi legal!).
Îţi poţi începe ziua cu un mic dejun delicios la Pastis, în Meatpacking District, unde, pe lângă faptul că au cele mai bune clătite, poţi foarte uşor şi absolut din întâmplare să întâlneşti vedete aproape de nerecunoscut… aşa că, ochii în patru!
Apoi – după ce ai înotat prin zăpadă să ajungi la prima staţie de metrou – poţi alege să faci o plimbare romantică prin Central Park (jur că şi fără un bărbat, şi dacă mori de frig, tot romantică e!) şi, poate, te tentează să patinezi şi să râzi cu gura până la urechi: nu numai că e distractiv, dar e şi o ocazie excelentă să cunoaşti lumenouă. A, şi încă ceva, gândeşte-te că, în istoria filmului, multe eroine îşi găsesc jumătatea după câte o trântă jenant-amuzantă pe gheaţa din Central Park. Îţi aminteşti de Serendipity, de exemplu?
Ce urmează?
Varianta 1: Ţi-ai găsit jumătatea şi… nu mai e treaba mea să-ţi spun ce să faci…
Varianta 2: Nu ţi-ai găsit jumătatea, dar cu siguranţă ai cunoscut oameni minunaţi cu care o să ieşi sâmbăta viitoare la masă!
Să continuăm, aşadar, cu variant numărul 2: scutură-ţi zăpada de pe haine şi, udă ca un câine, du-te acasă şi pregăteşte-te. Crede-mă, prânzul de sâmbătă în NYC e ceva pentru care trebuie să te pregateşti! Mai ales dacă mergi într-un loc exclusivist, ca Lavo, pe Madison Avenue. Selecţia de mâncăruri şi de vinuri este extraordinară, oamenii sunt chic şi de treabă (uneori faimoşi!) şi… s-ar putea să ajungi să dansezi pe mese, în timp ce ţi se face "un duş cu… şampanie". O, da, prânzul de sâmbătă în NYC e o experienţă care trebuie încercată!
S-a făcut deja 6 după-amiază şi iarăşi ai de unde alege. Poţi merge la un shopping pe Madison Avenue, unde se înşiră cele mai grozave buticuri, dar eu aş alege în loc, o vizită fascinantă prin galeriile fermecătoare ale MET-ului (Metropolitan Museum of Art), de pe Fifth Avenue. Wow ! Ai nevoie de zile întregi să vezi tot ce este aici, dar te-ai putea opri pentru două ore măcar să te delectezi cu misterele Egiptului ori să te visezi Greta Garbo sau Grace Kelly, în timp ce te plimbi printre superbele creaţii de designeri expuse la Costume Institute… Crede-mă, după asta chiar nu-ţi mai arde să mergi la H&M!
Acum, că s-a făcut ora 8, poţi intra la Main Cloister. Şi în timp ce marele Frederic Chiu cântă la pian, tu te bucuri de un Cosmopolitan şi îţi spui: Iubesc New York-ul.
Ca să nu mai vorbim de câte încă ai mai putea face după: o cină delicioasă şi liniştită, poate la bistro-ul meu italian preferant, The rabbit on the moon, din Soho, cu câţiva prieteni, sau un spectacol muzical amuzant în Theatre District (Wicked este bestial!), un club… ori să alegi să te întorci pe jos casă, zâmbind că eşti în New York şi te simţi parte din el !
Ups… încă ceva. Atunci când te plimbi pe străzile New York-ului, nu uita să fii foarte atentă! S-ar putea să treci pe lângă Jude Law şi să nu-ţi dai seama ! N-ar fi păcat?
Citiţi şi
Ocolul pământului în 80 de zile de… lux!
Acest articol este protejat de legea drepturilor de autor. Orice preluare a conținutului se poate face doar în limita a 500 de semne, cu citarea sursei și cu link către pagina acestui articol.
4,042 views