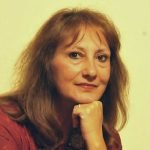 În America timpul e tot. Se vinde în pilule la fiecare Deli şi cărucior cu hot dogs, la televizor şi în birourile companiilor de asigurări, la slot-machines şi în biletele feribotului de Staten Island, în urarea Have a nice day! pe care o rostesc toţi automat, doar ca să scape cât mai repede de tine. Economia de cuvinte şi formulele concentrate de limbaj convenţional nu vin aici din goliciune, ci din spaima de a nu întârzia prea mult într-o sintagmă care nu ar aduce nimic în plus faţă de Have a nice day! Time is money. Sufletul? Zace pe un scaun de shrink sau în grila unui program de talk-show.
Funcţionează aici un fel de decenţă de a nu-ţi copleşi interlocutorul cu vreo trăire personală intensă care să-l oblige la o reacţie. Un fel de spaimă de a face ceva nepermis, întârziind pe câte o silabă, rotind în gură cuvântul love – cel mai uzat cuvânt în America – până ce pieptul ţi se umflă şi nările ţi se dilată. O pagină din Henry Miller ţi se lipeşte de piept şi ajungi chiar să simţi dragostea sfredelindu-te pe dinăuntru cu mirosuri şi senzaţii tactile.
Aici toată lumea iubeşte de dimineaţa până seara şi nimeni nu se sfieşte să-şi facă publică dragostea. Iubirea se extinde la obiecte, feluri de mâncare, peisaje şi situaţii. Oh, my God, I love this, I love that… fără nuanţe, ignorând existenţa sinonimelor (între a plăcea, a preţui, a fi atras de, şi a iubi este o diferenţă nu doar de intensitate, ci şi una temporală). Şi în timp ce gura se umple de vocala o, cuvântul dispare, greutatea lui e anulată. Îmi amintesc cât erau de greu de rostit cuvintele de dragoste în adolescenţa mea, ce piruete nebuneşti făceau frazele, cum le cântăream intensitatea, cum le mai gradam emoţia, folosind un întreg arsenal lingvistic aluziv, convinşi că inhibiţia noastră ţine de educaţie şi că ar fi indecent să evaporăm misterul şi forţa celui mai puternic cuvânt prin rostirea lui la întâmplare sau că odată rostit, ne-am trezi descoperiţi şi vulnerabili, ori am atinge coarde patetice. Şi dacă odată spuse, cuvintele de dragoste s-ar lovi de un zid? Dintre toate câte ne pot umili, ridicolul e cel mai ruşinos. În plus, trăiam într-o societate închisă unde viaţa sexuală era un subiect tabu, contracepţia interzisă, iar dragostea se confunda în mintea ideologilor comunişti fie cu partidul, fie cu reproducerea. Am senzaţia că toate astea s-au petrecut acum o sută de ani…
Ce simplu se poate tranşa azi o partidă de sex şi ce prăpastie desparte totuşi sexele în marile oraşe americane unde cariera şi statutul de single par să fie la mare preţ. Femei independente şi emancipate, bărbaţi de succes timoraţi de spaima hărţuirii sexuale, se adulmecă în baruri rupţi de oboseală după orele de program, beau cocktailuri şi bere, râd zgomotos, şi a doua zi o iau de la capăt. Se vorbeşte tare, nu contează ce spui, ci doar să te faci auzit, lăsând impresia detaşării, suficienţei, siguranţei de sine înăuntrul unui sistem sigur. Dacă priveşti mai atent şi îţi lipeşti urechea de cuvintele mitraliate de la unul la altul sub presiunea comunicării cu orice preţ, singurătatea e copleşitoare, străluceşte doar învelişul motivaţiilor, îţi ia ochii doar poleiala.
Love se reduce la un automatism de limbaj. A iubi devine un verb comun rostit fără participare emoţională specială. Un ingredient expirat aruncat la întâmplare printre formulări fără savoare.
Fragment din articolul "Cuvinte locuite în America" publicat integral aici.
Time is everything in America. It is sold at each Deli and hot-dog cart, on TV and by insurance companies, on slot-machines and with Staten Island ferry tickets, in the Have a nice day greeting everyone utters automatically only to get rid of you quickly. Using concentrated formulas of conventional language does not stem from emptiness, but from fear of lingering too long in a syntagma which is not likely to bring anything new when weighed against Have a nice day! Time is money. The Soul? It is lying somewhere on a shrink's chair, or in the schedule of TV talk shows.
While inside the whale's belly, I quickly sketched the steps of loneliness: from the chosen isolation, where you have the revelation of your own interior beauty, to the imposed solitude, where you look at the tops of the buildings and can't see the stars because of the roofs; from seclusion, where a good book still keeps you warm, to estrangement, where the language becomes a powerless being, swallowed by the first carnivorous flower; and even further on, to alienation, where words lose their meanings and weight, the godly effort fails on a computer screen or in a cell phone you use only if there are people around to hear you.
The essence of communication slips into the ridiculous, not out of emptiness, but from fear of doing something forbidden, lingering on a syllable, rolling around the word love until your chest is pumped up and your nostrils dilate, a page from Henry Miller stays with you and you actually feel love piercing you with scents and tactile sensations.
When I fell in love in my adolescence I didn't even dare to utter the word love from the fear that it's magic will disappear. It was my secret, my hidden treasure. Our mentality back in those times was to protect it from the public eye. Was this cautious attitude part of our inhibitions inside a dictatorship or just a way to live one of the most powerful words?
In America love seems to be a word overused. Over here everyone loves, from dawn to dusk, and no one is shy about publicly showing his or her love. Before hanging up the phone, after speaking with a friend, automatically out comes "love you", meaning actually more "talk to you soon" or "good bye, farewell." Love extends to objects, dishes, landscapes and situations. People often say, Oh, my God, I love this, I love that…. without nuance, ignoring synonyms such as like, value, admire, appreciate, cherish, be attracted by etc which offer differences in intensity and emotions. And while saying a few times a day I love… the mouth fills up with the vowel o, the word disappears, its weight is cancelled, the meaning lost.
Love repeated carelessly and continuously becomes all but worthless.
I can remember how difficult it was to articulate love words in my adolescence, the crazy pirouettes taken by our sentences, the way we weighed their intensity, graded their emotion, using an entire linguistically allusive arsenal. We were convinced that our inhibitions were due to education and that it would be indecent to dispel the mystery and force of the strongest word by saying it randomly, or that once said, we would awaken exposed and vulnerable, or we would strike sentimental chords. And what if, once uttered, the love words hit a wall? Of all humiliations, ridicule is the worst. Furthermore, we lived in a closed society where discussing sex was taboo, contraception was interdicted, and love was confounded by the communist ideologues with either the party or reproduction. I feel as if all this happened a hundred years ago…
How easy it is today to deal with love as sex, although a huge gap separates the sexes in big American cities, where having a career and/or a status as single are highly regarded. At the end of the day, liberated women and successful men, castrated by the fear of sexual harassment, hunt each other in bars, laughing over cocktails and beer, exhausted from harrowing workdays. Their talk is often strident. What one says doesn't matter, only being heard, giving an impression of being detached, sufficient, self-confident inside a political correct society. And they will start this game of flirting all over again the next day.
If you look closer and put your ear to the words, machined-gunned from one to the other under the pressure of communication the impression of a universal loneliness can be overwhelming, only the surface motivations shine. They keep saying love you at the end of a phone call but love is reduced to sterile reflexive language, incapable of sustaining its meaning. To love becomes a common verb, said without any special emotion, an expired ingredient random among ordinary recipes, without any flavor.
Citiţi şi
Într-o zi mi-a mărturisit în genunchi că…
Limite şi înţelegeri ale sufletului
Nu exista "noi", eram doar eu și-un laptop…
Acest articol este protejat de legea drepturilor de autor. Orice preluare a conținutului se poate face doar în limita a 500 de semne, cu citarea sursei și cu link către pagina acestui articol.
1,271 views